Supermax Opencart POS Square In-person Payment
By using the Supermax Square in-person payment extension, POS users can open the Square Point of Sale application to process in-person payments using Square hardware like Square Readers. Square takes on the burden of staying PCI compliant. No checklists, assessments, or audits are required. The Square Point of Sale API is available for mobile web applications so Supermax makes it possible for the store owner to accept in-person card payments etc.
For more detail please check on Square website: Square In-person Point of Sale API
Supermax point of Sale (POS).To use this module you must have to install
Supermax Square In-person Payment extension is an add-on of Supermax point of Sale (POS).
What is Square Point of Sale?
According to Square, Square Point of Sale is the free Android and IOS point-of-sale (POS) app that gives you everything you need to take payments and run your business. Accept chip and PIN cards, contactless cards, and mobile payments with a Square Reader. Get the latest payment processing features for the merchant terminal with regular app updates.
Accept Visa, MasterCard, and American Express

Process payments right on your device

Record payments made with cash, gift cards, and other forms of tender

Connect your POS system to a receipt printer, kitchen ticket printer, barcode scanner, and cash drawer
For more information please visit the Square Website or contact Square Team
What is Square Reader?
How does it work?
The following example process flow shows how Supermax POS terminal interacts with the Square Point of Sale API:
Supermax determines the total amount to charge a customer.

Supermax packages the transaction information and sends it in a request to the Square Point of Sale application.

The mobile device running Supermax POS Terminal in the browser automatically opens the Square Point of Sale application which is installed on that mobile device.

The charge amount is prepopulated in the Square Point of Sale application based on the provided transaction information.

The transaction is completed with the Square Point of Sale application checkout flow.

The Square Point of Sale application sends completed transaction information to the Supermax POS terminal through the callback process. The device reactivates the Supermax to receive and complete the order process.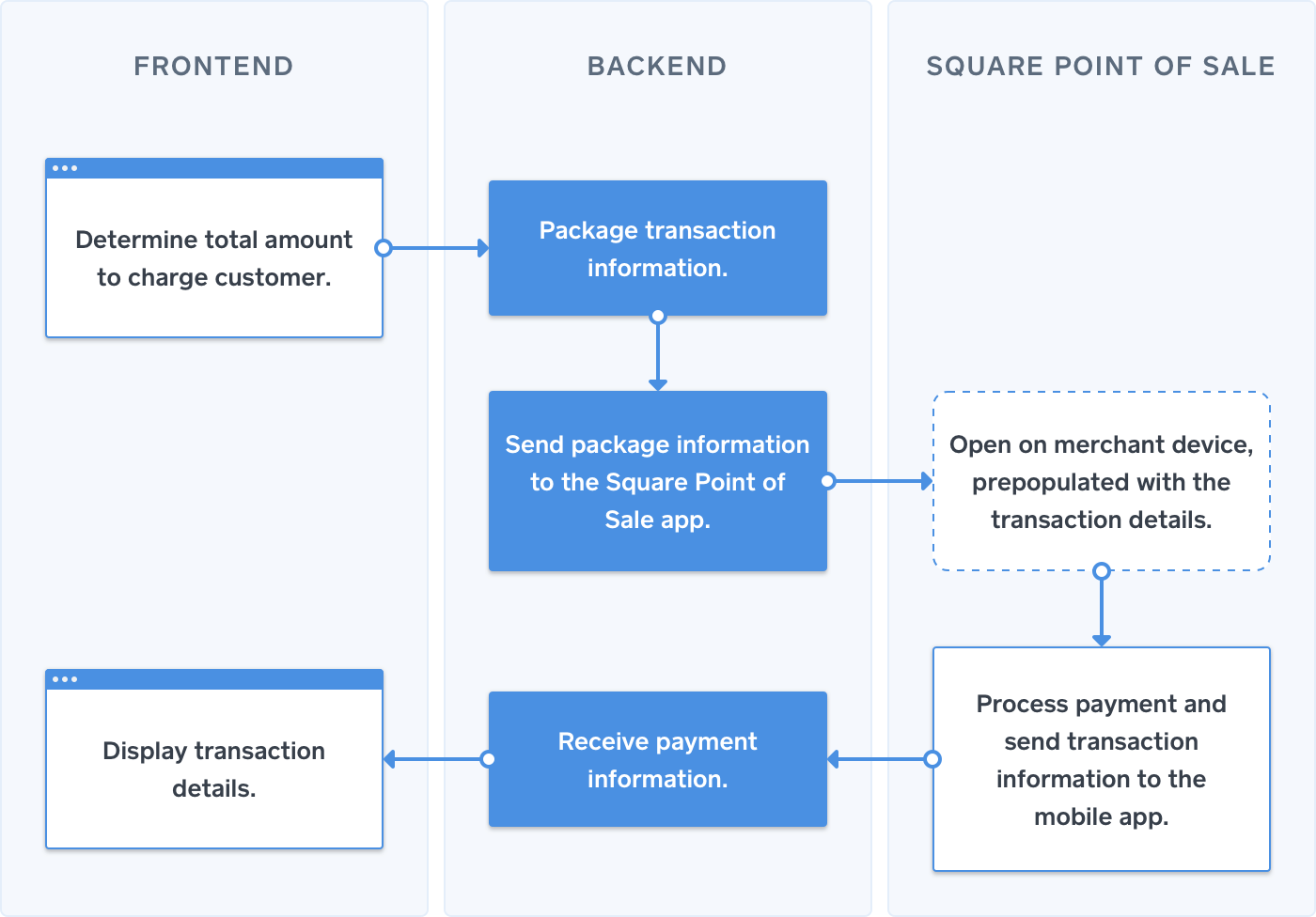 Important Note
Supermax is a web browser-based POS application so it connects to the square point of sale API(mobile web app) which needs supermax must be run on either Android or IOS devices chrome browser on which Square's point of sale application is pre-installed and linked with square readers.
Square has different payment chargers for his application and devices. So, please visit the Square Website or contact Square Team
Square Point of Sale application Installation
For Android: Play Store
For IOS: Apple App Store
Demonstration
As Square point of sale API only supports the production environment so, the demo link will be provided to the interested customer after the request. Please follow the below steps for demo links.

Step1: Go to the square developer site and create a developer account. Note: Email which you have used for developer account the same must be used to login into square point of sale native application.

Step2: Go to the Developer Dashboard and create an application. And you can see the Production Application ID.

Step3: Go to point of sale API section on the left side navigation and In the Web section, enter your Web Callback URL as https://ocpossquare.anyhowinfo.com/checkout/square-callback

Step4: Now create a ticket or mail us on support@anyhowinfo.com with these details.
Square Application ID

Currency Name and code which you have set for the transaction for square.

Support is provided from Monday to Friday only.
Please always provide a detailed problem description with admin access to the store and FTP.
All 3 points in the same order:
Store

FTP Account

Detailed problem description

Remember to backup files and database before, because sometimes some settings can be changed. After backup please don't change anything in store.

Extension support includes:
Availability of the agent to answer questions only extension-related

Answering technical questions about item's features

Assistance with reported bugs and issues

However, Extension support does not include
Free Customization services

Installation services

Updation Services

web hosting or server configuration/services
NOTE- In order to fix your issues we will need your web store admin + FTP credentials. Once we finish up the work you can change your credentials. Supermax POS terminal source code will not be provided and Supermax POS terminal build will be provided respective to opencart installed website, after the purchase. Please share your opencart installed website link to support@anyhowinfo.com, to get the terminal build. A sub-domain must be used to placing the POS terminal build to avoid domain storage and cache. Sub-domain must have https enabled if opencart installed store has https-enabled.
Related Products